Daiquiri
Ingredients:
1 part sugar syrup*
2 parts lime juice
8 parts white rum (Bacardi is best)
Shake all of the above vigorously and strain in to chilled old fashioned or cocktail glasses.
Interestingly, this drink was originally called a Bacardi, but the Bacardi company won a copyright suit so the name daiquiri has stuck.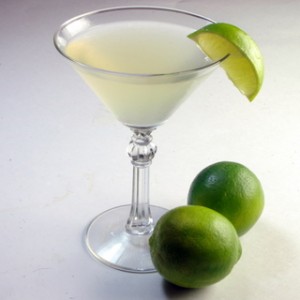 * Sugar syrup can be made at home by combining equal parts of sugar and water and cooking until the sugar has completely dissolved. It is much easier to use this for cocktails as sugar can be difficult to dissolve in alcohol and you can up end up with grains in your cocktail. When using sugar syrup, you can substitute one for one.