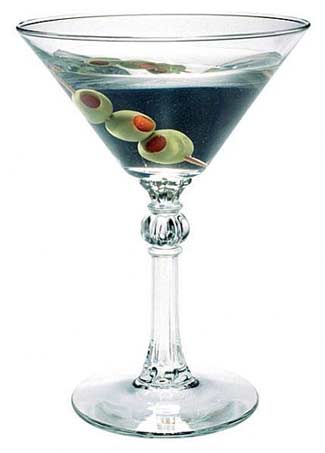 Ingredients:
1 part Lillet Vermouth (French)
7 parts best quality gin (I recommend Tanqueray No. 10)
Martini
This is likely to be the most controversial cocktail on the list as the true martini has been greatly maligned in film and bars all around the world. First of all, let us just clarify a few points. A martini is made with gin. Always. If you use vodka, it is not a "Martini" it is a "Vodka Martini" – only an ignorant person would ask for a martini and complain if it is not made from vodka. Using a twist of lemon instead of an olive in a Vodka Martini, gives you an entirely different drink which is called a Kangaroo.
The second serious issue that needs clarification is that you never shake a Martini. James Bond is wrong – a Martini is always stirred. If you ask for a Martini shaken, you merely show your ignorance. The reason for this is that all white cocktail are stirred – shaking introduced bubbles, introduces too much water, and the shaken wine (vermouth) makes the final result murky. Incidentally, if you absolutely must have it shaken – it is not a Martini, it is a Bradford. Now, on to the recipe. This is the best Martini recipe you will find.
Stir ingredients (don't stir too vigorously) in a bar glass with ice. Strain in to a chilled cocktail glass and twist some lemon peel over the top (do not put the peel in the drink – just twist it to spray the top with the juices). Serve with one stuffed olive on a toothpick (for some reason it has become fashionable to serve a martini with 2, and sometimes even 3 olives. This changes the flavor of the drink and should not be done).
If you use a cocktail onion instead of an olive, you have a Gibson rather than a Martini.